You are here
History Hebberecht Pigeons
Chris' father and grandfather were both very intense involved with pigeon racing and they made Chris also enthusiastic.
Father Octaaf established himselve at Belgium's best fanciers.
Chris' current pigeon colony is derived from the old strains that was careful collected by Octaaf. The base was formed in the early 50's, when pigeons were acquainted from Valere Docker from Moortsele and Hector De Smet from Geraardsbergen.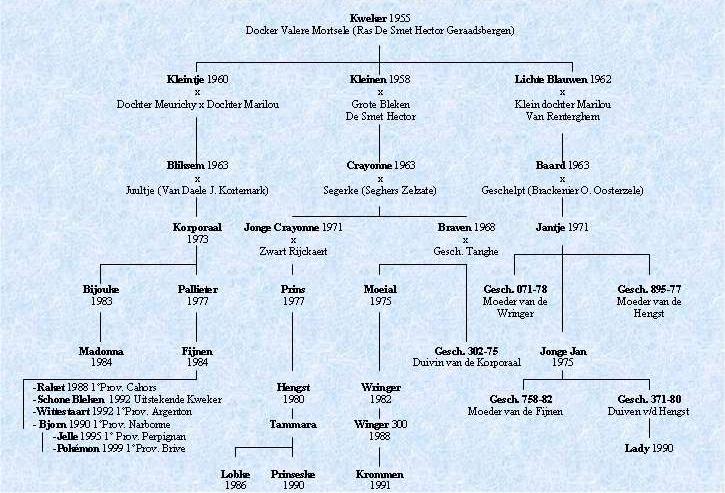 The current base bloodlines are based on the super breeder De Fijnen from 1984.
De Fijnen is father to 3 different first price winners on the provincial level and grandfather to multiple top pigeons. The two most famous are "Raket" and "Bjorn":
De Raket: 1st provincial Cahors (753 kilometers) against 1303 pigeons. De Raket is grandfather to the Super.
Super is father to Gentleman, who won the 6th internat. Dax (17.430 pigeons) and 47th nat. Bordeaux (7.519 pigeons).
His nestmate, the Galanten holds also this superiority label and proves this by 14th nat. Souillac (7.358 pigeons), 70th nat La Soutteraine (5.466 pigeons) and this is just an introduction.
He is also father to Tarzan, 5th national Ace pigeon KBDB long distance 2004. Tarzan won a 14 national Beziers (6602 pigeons, 866 kilometers) and the 49th international against 7340 pigeons.
Super is also father to the magnificent Talis, winner of the 1st semi-national La Soutteraine in 2001.
What also must be emphasized is that Super is father to:
Zwart Geschelpt 491-95. This hen is mother to Pancho. Pancho is the 2nd national Ace Pigeon long distance KBDB 2004 and probably 1 of the best racers on Chris' loft ever. He won 2 times a 1st provincial, 1 time a 2nd provincial, 2nd national Beziers against 5886 pigeons, 6th national Brive against 7556 pigeons, 12th national Brive against 19477 pigeons, 47th national Cahors 7342 pigeons, etcetera.
Zwart Geschelpt 489-5 is mother to Geschelpte Kathy, top breeding hen at Raoul and Xavier Verstraete.
She is also mother to Ambiorix, 19th national Barcelona 2005 (1091 kilometers).
 Bjorn: Top breeder and base breeder of the current strain. Bjorn won the 1st provincial Narbonne against 726 pigeons. Furthermore he won: 453rd national Limoges against 9952 pigeons, 429th national Limoges against 8952 pigeons, 135th national Tulle against 4744 pigeons, 189th national Tulle against 5484 pigeons, 5th national Narbonne against 5006 pigeons, 81th national Narbonne against 5929 pigeons, 225th national Montauban against 5495 pigeons and the 116th national Montauban against 5553 pigeons. Next to these incredible results, it appeared that Bjorn was a top breeder.
Besides these powerful homegrown line of pigeons, reinforcements were brought in and one pigeon really stands out:
"Zwarte Vereecke"
This pigeon was bred by Roger Vereecke from Deerlijk and is crossed to several base breeders. This resulted in many top pigeons, please refer to the overview below.
The mother to Bjorn is daughter to Zwarte Vereecke. As already noticed, Bjorn is the current base breeder.
The mother to Raket is a halfbrother to Bjorn and is also daughter to Zwarte Vereecke.
The father to Lobke is a son of Zwarte Vereecke. Lobke is father to the Schonen Zwarten, who is father to Champion, Bruce and Tibor.
Zwarte Vereecke is father to Vedette, who won a 49th national Brive against 23142 pigeons and the 75th national Beziers against 6522 pigeons. Vedette is father to Bonno, Achthonderd and Spirit.